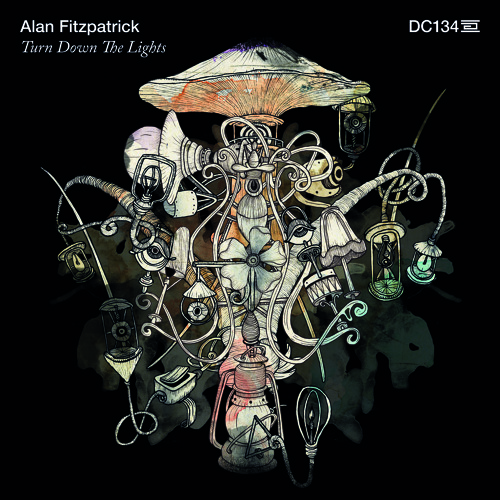 Alan Fitzpatrick returns to Drumcode for his tenth solo EP. Yes, you read that right, and no, it's not a typo. Alan has been at the top of his game since 'Static / Rubix' was released in 2009. Since then, he has been responsible for the production of countless memorable tracks, including 'Face of Rejection,' 'Always Something For Nothing,' 'Skeksis,' 'In The Beginning,' and 'The Tetra.' Now, his new EP, 'Turn Down the Lights,' is about to be added to Alan's long list of classics.

The EP opens with the title track. As Alan likes to change his style every few months, this one is different from anything he's released so far, with more of a house vibe. It has two distinct sections, and repeats each section twice. First come the piano stabs, which build the tension. The vocal pad fades in, then the pressure releases as it drops into the break. From there, a deep synth melody replaces the piano, until the vocals fade in and bring it around.

'Organic' is a bit of a return to Alan's previous sound, but also has some new elements. It is faster, and most definitely built for the club. The vocals come from Superchumbo's 'The Revolution'. Instead of his usual stabs, he uses sliding synths and pads for this one, which are offset by claps.

'The Catalyst' begins very quietly as the kick and arpeggiated melody filter in. Soon the bass kicks in, giving the track a heavy and yet open sound, as if the track is being played in a large empty room. As the break is reached, the synth morphs into a longer, more complicated melody, which takes the track to its finish.
Many fans were disappointed to find that "Organic" was not included on the vinyl version of the EP. However, the Drumcode staff has some nice surprises in store. In a couple of weeks, a second vinyl disk will be released. DC134.5 will include not only "Organic," but also a new bonus track called "OCD."

The bonus track begins with a heavy kick and lurching bass line, then adds in the unique and danceable hat pattern. A simple pulsing lead is brought in at the first break, but the track quickly seems to change its mind, and replaces the first lead with an alternate one at the next break. Heavily reverberated claps give the music a feeling of absolute power, and showcase Alan's genius.
'Turn Down the Lights (Digital Version)' is out now on Drumcode.
'Turn Down the Lights (DC134.5)' will be released on Drumcode on February 23rd, 2015.