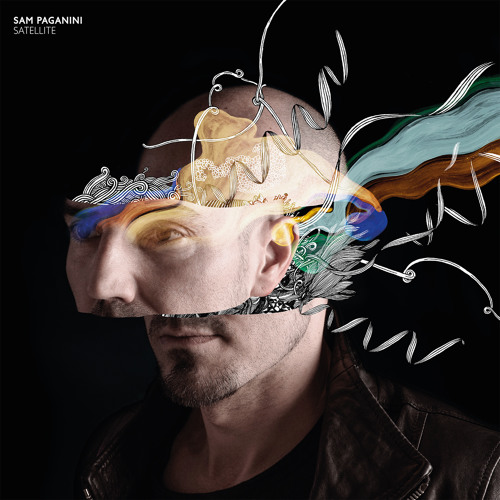 Sam Paganini has recently released 'Satellite', his debut album, which is a little bit surprising since he has been producing electronic music since the mid nineties. Given his experience, however, it is not surprising that no two tracks on the album sound alike, and all a produced masterfully with subtle touches and enhancements. And it is very fitting that the album was released on Adam Beyer's Drumcode label.

The album begins with the title track. 'Satellite' is an experimental ambient track which will no doubt be used as the starting track for many sets. It is very dark, with sweeping synths and Sam's signature heavily-filtered vocals.

Next is the 'Another Chance', a relentless groover. This one's already #4 on the Beatport techno charts as I write this. Sam builds an infectious groove from the ground up, adding more layers until the final break and outro.

'White' is a new direction for Sam, a dark and bass-heavy track with a rolling psychedelic synth. It never fully breaks, keeping the dance floor moving the entire time.

'Down' is more of a return to the style of some of his earlier tracks, and can be compared to 'Back to Zero'. It features a very funky groove which is shifted by a heavy percussion stab, while delayed vocals fill in any frequency gaps.

With 'Silver Panorama', Sam shows that he can break all the norms of dance music. This one could fit under many different genres, but the best way I can think of to describe it is bright and sunny. The track is also very short, ending almost immediately after the break.

'Lotus' might be the most recognizable track from the album, having been played in Adam's sets since the end of 2013. With a very minimal groove, subtle bass line, and repeated percussion pattern, the track peaks just after the break, when the melody breaks in with a flourish.

'Dusty' is a peak-time bomb, one of the two tracks that are clearly meant to smash the clubs, and are already doing a marvelous job. This one powers forward, building energy very quickly, going straight to the break, and then taking its time to fade out.

'Toxic' is another track that is completely different for Sam. It has no melody, but could be described as his take on the Berlin techno sound. The focus in this track is entirely on the bass and beat. Crisp hats and rides balance the sound out.

'Cosmo' is a break from techno, being a chill song with a soft, buzzing beat. He uses a subtle bell sound for the melody and fluttering pads for accompaniment.

It seems like the entire album is building to the next track. 'Rave', though it has only recently been played in Adam's sets, is already incredibly popular, and for a good reason. I have described it before as the soundtrack to the apocalypse. It is a worthy follow-up to his track 'Chocolate', including everything from vocals that sounds like a battle-cry, to a strong melody, to a beat that never gives up.

'Sunflower' begins the cool-down, dropping the energy to something deeper and more soulful. It begins with a sample recorded at the San Francisco Airport before the memorable lead comes in in octaves. A minimal beat accompanies the atmosphere. To keep the emotion and energy, Sam combines madrigal vocals with a warped pad, for a stunning effect.

The album closer is fittingly titled 'Exit.' This one is very grand. It sounds very eerie at the beginning, then morphs something more melodic. He shows that he is a very sophisticated producer, including so many details that it is impossible to notice them all.
Out now on Drumcode.